EQUIPMENT & SERVICES ︎ PROJECTORS | LED | PROCESSING | VIDEO PROCESSORS


VIDEO
PROCESSORS
Barco E2
The Barco E2 Tri-combo is a presentation and screen management switch and one of the most advanced video presentation and processing control systems today. Supported to 4K60p on a single cable. Input cards support support for 2 x 4K60p on a single cable or 6x HD inputs. This improves the configuration of the Tri-combo E2 for an incredible 40 HD inputs or 12 4K60p inputs and up to 5 inputs 4K60p or 18 HD. The Barco E2 tri-combo has extra large capacity and flexibility to support all the necessary event.
SOFTWARE
Event Master E2
VOLTAGEM
100-240V, 50-60Hz / power supply - 700W
VIDEO OUTPUT
4x SD/HD/3G SDI (6G ready) 8x HDMI 1.4a (297 Mpix/sec max) 2x HDMI 1.4a for Multiviewer (297 Mpix/sec max)
VIDEO IMPUT
8x SD/HD/3G SDI (6G ready) 8x HDMI 1.4a (297 Mpix/sec max) 8x DisplayPort 1.1 (330 Mpix/sec max) 4x Dual Link DVI (330)
CONETION/CONTROL
1x RJ-45, 1000/100/10 Mbps autosense HD S3D Sync: 4x input Din connector, 2x output Din connector 1x BNC Genlock In
More informations:
Click here
NovaStar H9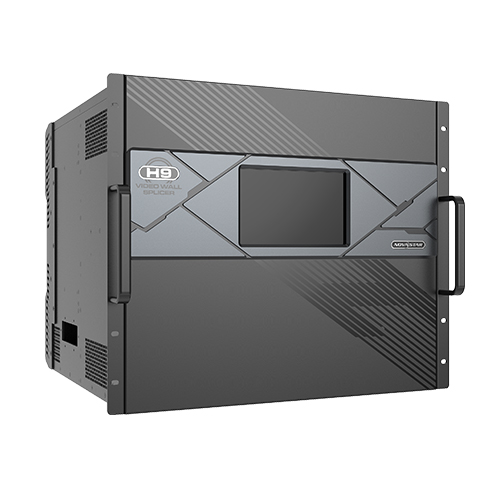 The H9 is NovaStar's latest generation of video wall splicers, with excellent image quality and designed specifically for high-density LED displays. The H9 can operate as a splicer, integrating video processing and control functions, or as a pure splicing processor. The entire unit is modular and pluggable, allowing flexible configuration as well as "hot swapping" of input and output boards. Thanks to its excellent features and stable performance, the H9 can be used in a wide range of applications.
Two different types of 4K push cards:
H_20xRJ45: Handles up to 13 million pixels
H_16xRJ45: Hands up to 10.4 million pixels (incl. 2x OPT-Out)

Different settings possible on a sending card:
4x 2K × 1K @ 60Hz
2x 4K × 1K @ 60Hz
1x 4K × 2K @ 60Hz

Online monitoring for all input and output cards "Hot-Swap" function for all input and output cards
The H_2xRJ45 IP input card supports up to 100 IP cameras incl. entrance mosaic
Automatic decryption of HDCP protected fonts multi-screen management web control
Specifications:
Max. Number of input boards: 15Max. Number of input channels: 60Max. Number of output cards: 5Max. Loading capacity: 65,000,000 PixelMax. Number of layers: 80
General Specifications:
Power Voltage: AC 100-240V, 50/60HZ
Power consumption: 450Watt
Dimensions: 482.6 x 533 x 405.8 mm (WxDxH)
Weight: 35kg
More information: Click here

Spyder X20
One Versatile hardware-based video processor combined with the flexibility of a universal switcher. Your source allows real-time simultaneous processing.
The Spyder X20 offers users 20 megapixel broadband for mixing, window and scale of any font format and forwarding the signal to one or multiple display devices.
Advanced architecture reduces the amount of wires, boxes and space in the rack, traditionally required, making installation quick and easy.
With its band, Sypder X20 achieves greater brightness, image quality and resolution of what has historically been possible. Can be used in many different environments with any video device (projectors, plasma screens, LED displays, projection of cubes etc) or in any combination several devices simultaneously.
More informations:
Click here
NovaStar MCTRL 4K
Magnimage LED 780-HD

With a maximum of 8 inputs, it is capable of controlling 4 screens from different input sources. You can also use it as an 8 in-4 out matrix. All input sources can be switched to any output without black pause or signal pause.
More informations: Click here
NovaStar VX Serie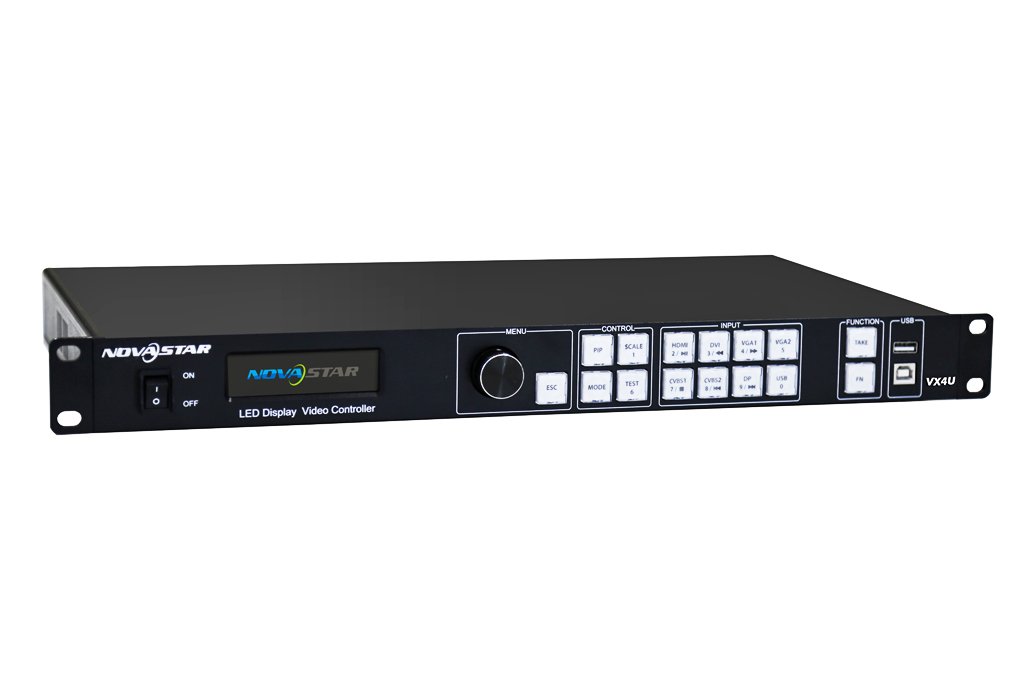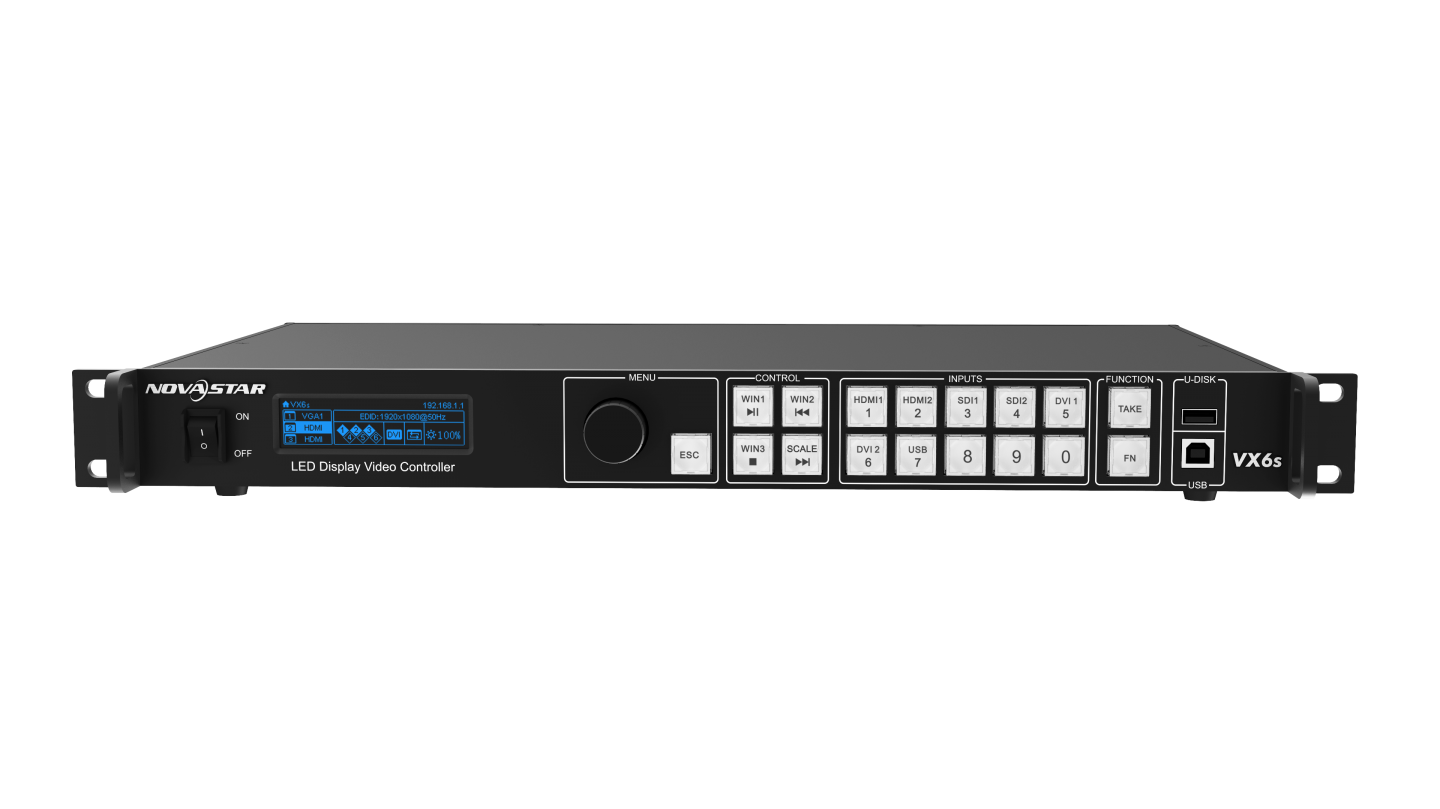 NovaStar VX6

The VX6 is an All-in-One video controller that integrates send card functions with video processing. Designed with powerful video processing capability, it supports 7 Gigabit Ethernet inputs and 6 outputs. Based on the FPGA processing platform, the VX6 supports various switching effects such as fast, seamless fade and scaler function, providing a flexible screen control experience and excellent video presentations.
NovaStar VX4

A professional LED display controller from NovaStar. In addition to having all the functions of an LED screen controller, it also features advanced front-end video processing. With high image quality and flexible image control, able to meet the demands of the media industry.
More informations: Click here
Datapath Fx4
(SDI/HDMI/Display Port)

Loop Through

A dedicated DisplayPort1.2 loop-through output allows users to connect multiple devices. Designed specifically to prevent loss of resolution, the original capture signal remains unchanged.
Powered by Wall Designer
Wall Designer allows users to add views from the ever-expanding monitor database, preview their content by adding inlets, backgrounds, and adjusting capture regions. Finally, instantly configure all Datapath Fx4 via USB or network ports.
Datapath Fx4 is a multi-faceted, standalone display controller that supports a choice of inputs, high-bandwidth loop-through, allowing flexible display on four monitors.Multi-input option. HDCP Support The Fx4 has a DisplayPort1.2 main input and two HDMI1.4 inputs. The intuitive user interface allows users to determine which input is used.

Network connectivity

Dual Ethernet ports allow users to add the device to their networks. Although Ethernet loop support on the second port means that only one device in the chain needs to be physically connected. Genlocked Entry

A dedicated BNC connector allows users to synchronize with third-party hardware.

Switcher Blackmagic – ATEM
ATEM Television Studio HD is the first production switcher to vivo developed for both TV broadcasters and AV professionals.
It includes 4 SDI inputs and 4 HDMI inputs, so you can connect up to 8 sources, and support all formats up to 1080p60!
Equipped with state-of-the-art broadcast capabilities, the ATEM Television Studio HD offers resynchronization on all inputs, providing a switching always clean, whether using professional cameras or domestic use. In addition, you have output from multiview to view all your sources, preview and program on a single screen, auxiliary output, integrated intercom, 2 frame memories, 1 mixer audio, camera control unit and more! ATEM Television Studio Pro HD has the same features, plus a panel integrated control hardware for professional broadcasting and additional CCU controls. Both models are ideal for productions live, TV series, web shows, AV or even coverage live video game competitions! Just connect your cameras, video game consoles or computers and start streaming live!
More informations: Click here